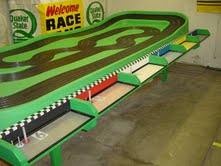 Nineteen racers made the trip Kutztown PA for the 6th annual 4th of July Blast to the Past event. Randy's Raceway was pleased to host this event for the 6th time and will host it again next year. Everyone knew a few of the regulars could not be here and their wisdom, friendship, and, racing skills were missed by all.

Saturday was the beginning of a great weekend to be racing. Ten racers came to the practice to take advantage of the pre-race tech and tune.
Sunday morning came around and Letterman's Dinner was the place to go for breakfast. The doors opened at 8am and the racers started to enter and claim their pit areas. Coffee and donuts were ready for all the racers in attendance.
All of the races were raced in a 2 minute round robin format.
The Super Stock Slip on tire cars with the paper Modified bodies was first on the agenda. These were raced on the 6 lane Tomy Tri-oval. Running a 12 tooth slip on tire car Dennis " Pit Stop " Moore ( New Jersey ) took the win with 204.14 laps. 3 laps off the pace at 201.20 laps was Randy Jay Haydt ( Track Owner ) finishing 2nd. Taking 3rd was Hiram Durant ( Pennsylvania newest home track racer ) at 197.20 laps. In the 4th spot was Don Auriema 194.30 laps.
5th Jim LeVan / 6th Dan Wirfel / 7th Bill Hance / 8 th Robin Schroy / 9th Tom Wenner / 10th Brian Sponagle
Next up was the Indy Cars on the 8 Lane Tomy oval. Staying clear of the mayhem that can happen on the 8 lane was Don Auriema for the win. Don finished with 217.13 this was 3 laps ahead of Hiram in 2nd with 214.18 laps. The next 2 spots went to 2 home track Pennsylvania racers Jim LeVan and Tom Wenner finishing in a tie for laps at 212. Only 2 sections separated them for the 3 spot and taking that 3rd was Jim. Finishing in the 4th position was Tom. Both local racers had a great showing on the oval !
5th Randy Jay Haydt / 6th Sheldon Hiester / 7th Joe Rinn / 8th Robin Schroy / 9th Dan Wirfel / 10th Brian Sponagle
Now it was time for the food break and Spud's came through once again with fine variety of food. Meatball sandwiches, loaded fries, mac & cheese, perogies and all kinds a other snacks and drinks were provided.
Last on the racing agenda was the Nostalgia class with a Muscle car body. This was raced on the 6 lane Wiz Tub Track. The newest home track racer Hiram won with 108.18 laps. This was a 5 lap victory and the highest margin for a win all day. 2nd and 3rd place was a tie with 103 laps and only 1 section was the difference for the 2nd place spot. Donny making another great run on the day took that 2nd. Brian " Spoons " Sponagle who is another home track racer finished 3rd. 4th place went to Sheldon Hiester ( Pennsylvania ). Sheldon is a local racer and is showing that his skills are as good on the road course as they are on an oval.
5th Dan Wirfel / 6th Pit Stop / 7th Jim LeVan / 8th Randy Jay Haydt / 9th Robin Schroy / 10th Vic Quinones
Breakfast at Letterman's Dinner / Pit Stop doing the expected, arriving late and still kicks a** / Robin the painter had some very nice bodies for sale / Tim Kirk's reappearance to racing / Bill Trotter's back and forth decision to run Nostalgia / Randy not needing a Snicker's bar because of Bill / Spud's food spread / Local racers making the podium / Donny running break on the Tub for 4 races / Bill Hance squeaked his way through Nostalgia / Controller wires black goes to black and white goes to white / Benny the magnet racer had a blast / One computer had a heat stroke / The best of all is19 racers getting together just having fun !
I would like to thank everyone who attended and made it a team effort for a great day of fun. Looking at those who attended you all helped in some way throughout the day. It starts with the set up, track cleaning, organizing, running the computer, helping other racers when it was needed, eating the food and cleaning up. You all took part of it and did a little racing as well !
Next year dates for the 4th of July Blast to the Past 2020
Car and Body Specs for 2020
Vintage Tin NESSRC / ECHORR chassis rules running on the 8 Lane Tomy Oval
NASCAR bodies used during the years 1950-1968
Indy Car ECHORR chassis rules running on the 6 Lane Tomy Tri-Oval
Hot Rod bodies as produced by Jimmy Flintstone Studios
Body styles allowed: JFSL31-33 Plymouth 3 Window or JFSL49-1933
Also check with Robin Schroy for supplying and the custom painting of these bodies !
Super Stock ECHORR chassis rules running on the 6 Lane Wiz Tub Road Course
Can be slammed and lightened, must have front windshield and the interior can be removed. The body must still resemble the original body. No exaggerated body cutting !