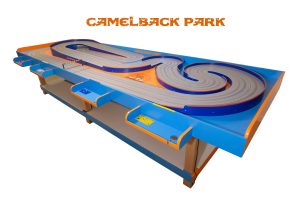 Eight racers sojourned to the inaugural races at Camelback Park, including six from above the Mason-Dixon Line. In attendance were Henry Belfiore, Hiram Durant, Sam Johnson, Randy Haydt, Jim LeVan, Tom Wenner, Brian Sponagle, and myself.
With only eight racing, we were able to run four classes. Leading off was Slip-Ons Super Stock. Finishing order was:
Nostalgia followed with Hiram again taking top honors.
After breaking for pizza and salad in the shade outdoors we headed back down for Super Stock.  Hiram maintained his dominance by taking first yet again.
Tom Wenner brought his newly minted set of Modifieds for an IROC race. The big news was that Hiram didn't win. That honor went to Brian!
Congratulations to all of the winners and to Randy, the only racer who placed in all four races.
Thanks to all of those who came and helped me consecrate Camelback Park.  I look forward next year, when I hope to see more of you here. Special thanks to Hiram and Randy, who help me do the final install of the track and wiring and to Henry, who made three trips here to assist me with the tricky matter of putting up all of the walls on the elevated sections of track.