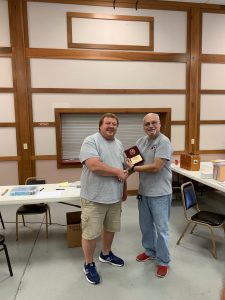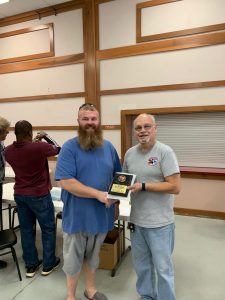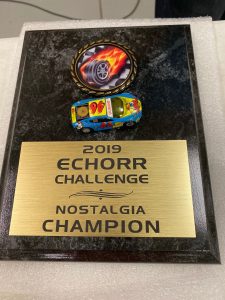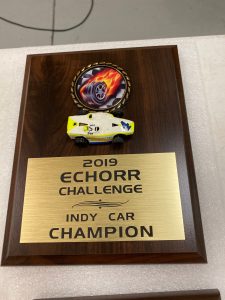 Another Successful Challenge! Thanks to all that helped make this a very stress-free event.  First to Randy J Haydt for time and effort put in to build track tables, wiring and keeping the President at an even keel.  Thanks to Dave Simms for taking over the treasurer duties and making sure everything was taken care of for the event.  Thanks to Anthony Zampelli and crew for getting the infamous Coffin track to the event and setting it up.  Thanks to Randy and Dan Wirfel for their use of their tracks for the event.  Thanks to Bryan Kistdhart for setup and transport. Thanks to Jim Levan, Ed Schultz and Tom Wenner for setup help.  A big thanks to our new official chef: Robert Arnold, he put out some delicious food for lunch on Saturday. Thanks to everyone else that helped out during the weekend.
Setup on Thursday went pretty smooth and all tracks were set up and tested by late afternoon.
Team DCM had a track set up in their hotel room and held a mock race during the night here are the results of the Holiday INN Invitational:
Racer    Race one         Race two         Total
James         16                    14                    30
Dave            15                   14                    29
Donny        13                   16                    29
JP                 14                   15                    29
Dr. Evil      15                    14                    29
Boz            14                    15                    29
Ray            14                    14                    28
Vic             14                    13                    27
Johnny    13                    12                    25
Friday the doors opened at 8 AM for practice and IROC car table matching.  By noon the tracks for the Individual events had been decided and those tables got extra busy in the afternoon. Thanks to Dan Wirfel for helping me get the IROC cars matched to the tables.  We decided that the Nostalgia class would be run on the new Red/Blue Max and the Indy and SS classes would be run on the Coffin track.
Saturday morning, we held a driver's meeting and a moment of silence for Tommy Heister's mother, Kevin Browning, John Walters and Bob Amore. The IROC cars were handed off and it was show time.  As always with the IROC format there were some very close races and some upsets, but most of all plenty of laughs!! For the second year in a row Team DCM came out on top. Congrats to them!!
Team                           W                    L                      T
DCM                            8                      0
Victory Tires            6                      2
515                               5                      2                      1
BBT-Jets                    5                      3
Kicking Dash           4                      3                      1
Misfits                         3                      5
DCM Too                   2                      6
Heister's HO           2                      6
Randy's Raceway   0                      8
Congrats to all the teams!!
Next up was the Individual Races for the Nostalgia Class and Indy Class, again some fast cars and close racing.  When the Dust settled the Podiums looked like this:
Hiram                           82.09
James T                       80.19
Jerry Boz                     80.08
Donny A                      118.35
Bryan K                        117.02
Ed Shultz                     115.20
Sunday was SS Sweet16 bracket and Consi IROC day:
Details of the races follow but here are the top results:
Great weekend of racing with fun had by all, looking forward to next year. Rumor has it that the Beast from the East track will make an appearance, this is a 30 foot , 8 lane TKO oval. Again thanks to all that made this another successful event.